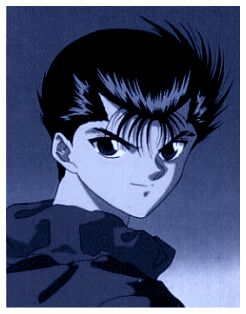 NAME: YUSUKE URAMESHI ( EUGENE )
AGE: 14 ( 16 at the end of the series )
SEX: MALE
HAIR: BLACK
EYES: BROWN
OCCUPATION: HIGH SCHOOL STUDENT / REI KAI TANTEI
NAME OF SCHOOL : SARASAKI HIGH
RELATIVES: ATSUKO URAMESHI ( Mother ), KUDA KUSUSHI ( Raizen's wife ), RAIZEN
CLOSE FRIENDS: KUWABARA / KEIKO
HOBBY: FIGHTING
HATES: SCHOOL
STRENGTH LEVEL: CLASS A / CLASS S
MAIN POWER: REI-KOU-HADOU-KEN
ADVANTAGE: POWER , SPEED, STAMINA, FIGHTING TACTICS, HIS DETERMINATION
COMMON TECH: REI GAN ( REI GUN )
MENTOR : GENKAI
SEIYUU :
NOZOMU SASAKI
---
FURTHER INFO:
-- the no. 1 delinquent in their school
-- he often goes to his school's rooftop when he skips classes or in between classes.
-- feared by his school mates because of his reputation as a delinquent.
-- has youkai blood w/c made his strength extraordinary eversince the beginning
-- luck has been his secret weapon.
Main
-- yusuke no hatten Jaganshi H


Y U S U K E ' S S T O R Y

Yusuke is a high school boy who accidentally died trying to save a young boy's life from a car accident. His spirit was assisted by Botan ( diety of death ) towards Rei kai ( spirit world ) for judgement. But due to the way Yusuke died, his spirit was sent back to Ningenkai ( Earth ) carrying an egg which Koenma ( son of the Rei Kai god ) gave him. Yusuke must do good deeds so that once the egg will hatch, it will become a good youkai. But if he fails to do so, the egg will hatch and become a monster that will eat Yusuke's spirit. While wandering around Yusuke's neighborhood with Botan, Yusuke realized that his rival, Kuwabara, is a kind-hearted , compassionate man and different from other people. By knowing so, Yusuke helped Kuwabara pass an important exam by helping Kuwabara review through his dream. Yusuke's body continues to breathe so Yusuke could go back if he's done with his assigned task. His body was resting in their house. Unfortunately, his house was burned down by someone and there's no one inside the house but the unconscious body of Yusuke. Keiko rushed towards Yusuke's house after knowing so, and brought his body to safety. Kuwabara also assisted her to safety. This rescue would not have been successful if it weren't for Yusuke. He used the power of the egg to save Keiko from the engulfing fire, but in exchange for this, he can never come back to his body again according to Botan. Then suddenly, Koenma appeared and told him that he was grateful to hear that he used the egg to save Keiko w/o hesitation. If he did not use the egg, it would grow as a youkai and will eat him anyways. One last thing must be done before Yusuke can go back; within 24 hours someone close to him must kiss him ( his body ) or he would be doomed as a spirit in another 50 years. Keiko and Kuwabara dreamt of this which was done on purpose by Botan and Yusuke. Kuwabara was disgusted with it and just ignored it. Keiko , knowing that it was just a dream, has other things to think about , particularly her mother who's sick in bed. Only 10 mins. left and still no one had kissed him. Botan used Keiko's ill mother to say the message about Yusuke. After hearing this, Keiko rushed to Yusuke's house and she saw Yusuke's body literally glowing. Keiko rushed towards his body and kissed him. She burst into tears of joy after she saw him get up. Well, he was revived. After being revived, Botan appeared and she told Yusuke that he was appointed as a detective ( tantei ) of Rei Kai by Koenma. From that point on is the beginning of his challenging journey towards his strange fate.

T H E R E I G U N

Yusuke's rei gun was introduced in episode 6 ( when he was accused as the thief by his school teacher after he was revived ). The rei gun takes a person's ki from all over his body and concentrates it all to his finger then fires it like a gun. Koenma taught him what this is and how to use it.

G E N K A I

Yusuke met Genkai in her tournament in search for a rightful successor. He was not interested in joining this tournament at first but since he will be given a ticket to the World Fighting Championship after the mission, he easily accepted it. To make the story short, he won this tournament with a lot of luck. He became Genkai's successor and began his difficult training. He sometimes loses his temper during practice and attacks Genkai but he could not even get through her defenses. His trainings with her created a bond between them. That's why the death of Genkai during the Ankoku Bujutsukai was a dreadful tragedy for Yusuke. Genkai was killed by Toguro in their 'private' match in the field after she had transfered her power to Yusuke. She died right before Yusuke's eyes. After seeing the shocking sight, Yusuke fought Toguro that instant to avenge his master, but he was easily defeated. He keeps blaming himself for his sensei's death because he wasn't able to come on time during the battle of Genkai and Toguro. Now, Koenma told Yusuke that he's a fool if he keeps thinking that way. He told him that if he was able to get there on time, still, he couldn't have done anything because both Genkai and Toguro were using their strength to the fullest, therefor he doesn't have enough power to stop them both. After hearing this, Yusuke realized that Koenma's right. Yusuke seized his misery and swore to himself and to Genkai that he will defeat Toguro in the tournament. And so, he did.

Y U S U K E : T H E S C L A S S Y O U K A I

Yusuke transformed into an S-Class youkai during his battle with Sensui, a former rei kai tantei and an S-Class fighter ( the strongest and highest rank of fighters ). He was killed ( the second time ) in this battle and he was resurrected by his own youkai blood flowing inside him. Right after his resurrection, his powers tremendously increased from Class A up to Class S. Yusuke's appearance changed ( his hair grew and he had marks on his face ). Puu, Yusuke's half, was also affected with his transformation of power. Puu became a giant bird ( like a giant phoenix ). Sensui and Yusuke's match continued in Makai only to be ended by an unknown entity. Yusuke was possessed by someone powerful and it managed to defeat Sensui in battle. This entity was no other than Raizen, Yusuke's ancestor where he inherited his youkai blood. A few weeks had passed since the battle, he was invited by Raizen to go to Makai to take his place when Raizen's time comes. Yusuke accepts this invitation and he was trained under Raizen's people. When Raizen died, Yusuke temporarily ruled Raizen's kingdom in Makai and started a tournament. The champion will become the ruler of Makai. Yusuke was defeated by Yomi ,and yet Yomi was defeated by a kind-hearted youkai named Enki. When everything was over, Yusuke went back to Nigenkai to fulfill his promise to Keiko. Well, they probably got married since that was his promise 3 years ago and ran a ramen store with Keiko.





---

NAME: YOUKO KURAMA ( DENNIS )
PLACE OF BIRTH: MAKAI
SEX: MALE
AGE: 200+
HEIGHT:7 FT.
HAIR: SILVERY WHITE
EYES: GOLDEN BROWN
NUMBER OF TAILS: 5
RELATIVE: NONE / UNKNOWN
OCCUPATION: FORMER MAKAI THIEF
WEAPON: LETHAL MAKAI PLANTS
STRENGTH LEVEL: CLASS A
ADVANTAGE: SPEED AND STRENGTH
CLOSE FRIEND/S: HIEI / KURONUE ( BLACK RAVEN )
SEIYUU: NAKAHARA SHIGERU
---
FURTHER INFO:
-- he's half human, half fox
-- a famous youko theif in Makai
-- his body is well-built
-- has stronger power than his human form
-- has keen senses
-- has long life span
-- pls. keep in mind that minamino shuichi and kurama are the same person.
Y O U K O S T O R Y

Youko Kurama is a five-tailed fox demon who was a fugitive from Makai. He was a thief back then, a good one. One day, he was being hunted and he got injured; his situation was very hostile. Fortunately, he found a way to survive. He turned into a spirit and managed to escape from the hunters. His spirit flew to Ningenkai and managed to possess the body of an unborn child in a woman's womb. When the child was born, he was given the name Shuichi Minamino and was loved and cherished by his mother, Shiori. Shiori's husband died shortly after Shuichi was born. His true purpose of staying in Ningenkai was to recover his strength for mostly 10 years. But 15 years had passed and still, he's still with Shiori. He can't bear to leave his human mother after all she had done for him. Shuichi stayed and took care of her especially in times when she needs him.

H I S T R A N S F O R M A T I O N

Shuichi unexpectedly turned back as a youko during the Ankoku Bujutsukai. This was the time when his youko side was introduced. This was made possible by Uraurashima's curse that should have made Shuichi a helpless child, but instead he turned into a youko: his original form. He went back to his human form after their match.
At the time when Yusuke died for the second time, Shuichi transformed into his youko form by himself as a result of his vengeful spirit.
His third and final transformation was during his match with Sigure at the Makai tournament. But Kurama decided to turn into his human form to defeat Sigure for personal reasons.

K U R O N U E

Kuronue is Youko Kurama's late comrade. He was introduced in the second movie of Yu Yu Hakusho. He was Kurama's companion everytime he makes a move as a thief. Kuronue died while he tried to retrieve his necklace that was very important to him. He jumped into a deep hole underground and he was attacked by razor sharp bamboos. Kurama could not do anything but to save himself , and so he left him. Do not take it the wrong way. He also mourned for the loss of his friend.
---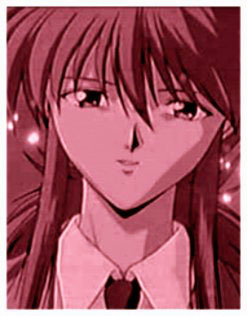 NAME: SHUICHI MINAMINO ( DENNIS )
PLACE OF BIRTH: NINGENKAI
AGE: 15
SEX: MALE
HAIR: RED
EYES: GREEN
HUMAN RELATIVES: SHIORI MINAMINO/ SHUICHI KAZUYU / KAZUYU ( his stepfather )
OCCUPATION: HIGH SCHOOL STUDENT / REI KAI TANTEI
NAME OF SCHOOL: MEIOU HIGH
FAVORITE SUBJECT: BIOLOGY
WEAPON: ROSE WHIP / OTHER MAKAI PLANTS
STRENGTH LEVEL: CLASS B / CLASS A
ADVANTAGE: INTELLIGENCE AND STRATEGY
CLOSE FRIEND: HIEI
SEIYUU:
MEGUMI OGATA
---
FURTHER INFO:
-- the bishounen character of this animme
-- he transforms into Youko Kurama
> -- he is popular for his reputation as the "romantic soldier" by his fans
-- had a girlfriend named Maya when he was 14
-- exceptionally intelligent ( an honor student ) / has human feelings.
-- has elegant fighting moves
-- has very keen senses 'cause he can ddetect where/who his opponent is by their scent



S H U I C H I ' S B A C K G R O U N D

Minamino Shuuichi is a 14-year-old student who lives with his mother, stepfather, and little brother ( at the end of the series ) . He goes to an exclusive school which is very well known in Japan. Shuuichi is very intelligent which is why he's often top 1 in his school. He's also very talented, very polite , well-mannered, and very attractive. Most girls in his school are crazy about him and some school clubs are begging him to join their club so that alot of girls/students would join that particular club. But despite of his "good moral character", he also can be very lethal and can kill instantly without hesitating. That is, if someone pushed him to the edge. That is also the reason why Hiei chose him be his partner.

S H I O R I M I N A M I N O

Shiori , Shuuichi's human mother, taught him the virtues of life. She also saved Shuuichi's life from falling and hitting his head when he was still young, and that moment was remembered by Shuuichi until now. Kurama / Shuuichi, who was once a youkai with a cold heart, became a warm-hearted person who cares for others, especially for his mother who saved his life. A few years later, Shiori became very ill and cannot be treated. Shuuichi became desperate to find a cure and save his mother. And because of that, he joined a group of thieves from Makai and stole the mirror of rei kai which is one of the 3 most important artifacts. The mirror can grant any wish of its holder but it takes its holder's life in return. When Yusuke was looking for him to retrieve the mirror, Yusuke saw him in the midst of a crowd and Kurama told him through telepathy to go to the hospital after three days. And so, three days had past and in the hospital, Yusuke met Shiori, Shuuichi's ill mother. There he explained his purpose for the mirror and he will return it afterwards. At that time, they were informed that Shiori's condition was already critical. There was no other way except the mirror's power. Just as Shuuichi was about to give up his life for his mother by using the mirror, Yusuke placed his hand to the mirror and offered his life in exchange for Shuuichi's because he couldn't bear to see another mother ( he once saw his own mother grieving for his death in the earlier part of the series ) suffer by losing her son. Shuuichi's wish came true without the mirror taking any life in return because of the good intention of Shuuichi for his mother and also with the help of Yusuke. Shuichi also saved Yusuke from Hiei's attack by striking him at his jagan. He did it to pay off Yusuke for what he had done for Shiori. As punishment for stealing the mirror, he was appointed as a rei kai tantei and he will help Yusuke in his missions.

M A Y A

Katajima Maya was Shuichi's classmate in school and she also has some psychic ability. She can see demons and other makai beings.She actually saw Shuichi talking to demons in their school, but Shuichi always denies it. Maya fell inlove with Shuichi and she told him about it. Shuichi could not tell her that he does not feel the same way about her. Maya was kidnapped that same day by a powerful youkai who eats humans. Shuichi ( with Hiei ) rescued her and defeated that youkai. After that , he erased her memory for the best. She also became Shuichi's girlfriend but only for a short time.

T H E D E A D L Y R O S E W H I P

Shuuichi is a very skilled fighter with a rose whip as his weapon. His rose whip was introduced during his match with Genbu, one of the holy beasts. This whip's thorns can cut almost anything such as metal, rocks, etc. Kurama can strike his opponent several times in a split second using the whip, leaving his opponent sliced into pieces. He can also turn other plants into hideous monsters that are very deadly and uses them against his enemies.





---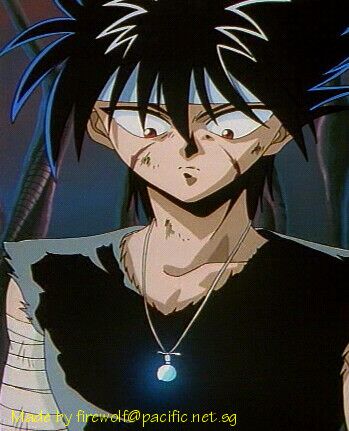 AME: HIEI ( VINCENT )
RACE: FIRE DEMON
AGE: UNKNOWN
SEX: MALE
HEIGHT: MORE OR LESS 5 FT. - ( higher than Genkai )
HAIR: BLACK ( with white spikes )
EYES: RED
PLACE OF BIRTH: ICE COUNTRY OF MAKAI ( KOORIME )
OCCUPATION: REI KAI TANTEI / FORMER ASSASSIN
RELATIVE/S:YUKINA ( TWIN SISTER ) / HINA ( MOTHER )
CLOSE FRIEND: KURAMA
WEAPON: KATANA ( SWORD )
STRENGTH LEVEL:CLASS A
ADVANTAGE: SPEED AND AGILITY / HIS JAGAN
POWER ( SOURCE ): JAGAN
SEIYUU:
HIYAMA NOBOYUKI
---
FURTHER INFO:
-- aloof but intelligent.
-- a famous thief in Makai
-- he carries the burden of being the ""Forbidden Child of Koorime"
-- likes to challenge strong opponents,, particularly Yusuke
-- he is capable of risking his life foor the benefit of his pride
-- dislikes people/demons who are untruustworthy


Yusuke



H I E I ' S S T O R Y

Hiei is a fire demon who was born in the Floating Kingdom of Koorime ( ice country of Makai ) where legendary ice ( youkai ) maidens live . As a fire demon, Hiei was bannished from their land when he was still a young infant because of the misfortune that he may bring upon to their homeland according to the Koorime elders. Hina , Hiei's mother, begged the elders to spare her son's life, but the elders did not listen. Ruri , a friend of Hina , was ordered to cast the child from a high ground ( literally speaking ) and to let him die in the cursed Makai grounds. Hiei's small and helpless body was covered in straps with writings on it to seal his powers. Ruri tucked a gem from Hina's tear inside the child's straps and whispered to him that he should survive and become strong, and she will be waiting for his revenge. After this, she dropped the infant into the dangerous land of Makai. The elders saw everything including Hina who was suffering in agonizing grief. Ruri's words was marked on Hiei's mind. Hiei survived the fall and was adopted by a group of thieves. Hiei kept the gem which reminded him of Ruri and gave him a reason to go on. It also comforts him when he's alone. As years went on, Hiei learned to fight and defend himself from the evil demons that lurk. He was fond of hearing cries for help from his opponents. He also became a hired assassin at that time. The thieves who raised him couldn't take his attitude anymore and cast him from their group. He wandered in Makai all alone and killed whoever gets in his way. Unfortunately, as he was fighting with a demon, he lost his gem. It fell from a cliff and it was washed away by a river found beneath . It was impossible for him to find the gem. At this point, he now has two things to find; the gem and the Koorime.

T H E J A G A N

He then realized that he needed a third eye to find them, and so he went to Sigure. Hiei requested Sigure to implant the Jagan on him. Sigure warned him that the operation would be dangerous , but Hiei insisted. As the operation was going on, Hiei cried in terrible pain. He also exerted some of his youki to somehow relieve him from the pain. The operation was successful, but Hiei lost almost all his strength. Because of this, Sigure told him to stay for another day, so that he could teach him some swaggerer's techniques. Knowing this, with such little energy at that time, should protect himself from harm. They also had a deal that in exchange for the jagan, Hiei would never tell Yukina that he is her long lost twin brother. Hiei never had any intention of telling her anyway.

T H E C U R S E D K O O R I M E

Having the Jagan, it is now possible for him to find the land that condemned him to death. As he finally reached Koorime, it turned into a ghostly town since no one wanted to talk to him and he was feared as a fire demon. As Hiei continued to walk, he found Ruri. At first she did not notice the fire demon as Hiei, the forbidden child. Hiei asked her some questions about a child who was once cast out. Ruri showed him the tomb of Hina who committed suicide ( forced? ) after her son was cast out. Ruri also told him that the forbidden child's sister, Yukina, left Koorime to find her brother; hoping that he's still alive. After telling this, Hiei left with the thought of his younger sister and it was his obligation to find her.As Ruri watched him walk away, she realized that he WAS the child whom she almost killed. She cried and fell down on her knees for forgiveness. Hiei had no intention of killing her , and so he walked away and left Koorime.


H I S J O U R N E Y

His search for Yukina made him reach Ningenkai. That was the place where he met Kurama. Hiei attacked him because he thought he's an enemy, but he found out that it was just a misunderstanding. Hiei got wounded from their fight and so Kurama brought him to his room and treated his wound. After that, they both defeated the youkai whom Hiei was looking for. Kurama tagged along because that particular youkai happen to kidnap his friend, Maya. Since their fighting skills blend well, they became friends.
When Hiei got involved in the rei kai robbery, he met Yusuke and this is where it all began. When he became a rei kai tantei , as punishment for his crime, he cooperated in Yusuke's group. He also managed to find Yukina from the evil claws of Tarukane. At the time when he saw her face to face, he decided to keep their blood relationship to himself since Yukina did not know who he was.
After Sensui's defeat, he received an invitation from Mukuro which means he has to go back to Makai. Before he left, Yukina gave him a blue gem and asked him a favor to find a fire demon who has the same gem and tell him that his sister is waiting for him. When Hiei saw her face, he found something in his heart that it was the gem he has been looking for. And after that, he left for Makai.

H I E I W I T H M U K U R O

Hiei once again saw Sigure ,but at that time he was Mukuro's right hand. Mukuro ordered them to fight each other, and whoever wins will be her right hand. Hiei had no interest of becoming her right hand. He also had no more reason to go on since he already found what he has been looking for ( the gem , Koorime , and Yukina ). It would be pretty fair for him if he would die at this match. Hiei still fought Sigure and ended up unconscious and almost dead ; his left arm and stomach was sliced up. But despite all these, he won the match. Before he went unconscious, Mukuro, who was watching the fight from the start, gave him a white gem but Hiei did not accept it and then he went unconscious. Mukuro healed him inside a tank and confessed her feelings for him while he was sleeping.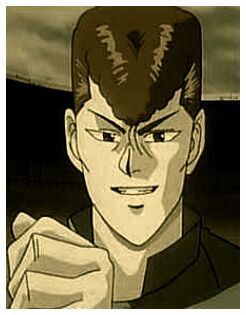 NAME: KAZUMA KUWABARA ( ALFRED )
AGE:14 ( 16 at the end of the series )
SEX: MALE
HEIGHT: ALMOST 6 FT.
HAIR:BROWN
EYES:BLACK
PLACE OF BIRTH: NINGENKAI
OCCUPATION: HS STUDENT / REI KAI TANTEI
NAME OF SCHOOL: SARASAKI HIGH
RELATIVE: SHIZURU KUWABARA ( OLDER SIS )
CLOSE FRIEND/S: YUSUKE AND HIS OTHER FRIENDS IN SCHOOL
NAME OF PET CAT: EIKICHI
BELOVED: YUKINA ( he used to have a minor crush on Botan )
COMMON TECH: REI KEN ( SPIRITUAL SWORD )
STRENGTH LEVEL: CLASS C / B
ADVANTAGE: REI KAN CAPABILITY
SEIYUU: CHIBA SHIGERU
---
FURTHER INFO:
-- he values friendship and a responsibble person
-- fond of cats
-- dislikes people who look better thann him ( e.g. Kurama )
-- has strong rei kan
-- he's the second strongest student inn his school
-- he has high respect towards women



Y U S U K E : H I S F R I E N D A N D F O E

Kuwabara is Yusuke's best friend and former rival. He's not actually an official rei kai detective, he's only helping Yusuke accomplish his missions. He often challenges Yusuke to a fight eventhough he always ends up beaten down. Kuwabara is also brave ; bravest of all Yusuke's foes in his school. Actually, Kuwabara seems to be the second strongest person in their school. Yusuke just kept him second. He also had a lot of gangster foes who came from different schools. When Yusuke died, he came to his burial shouting that they both still have a score to settle so he shouldn't have died. He wept afterwards because ,somehow, Yusuke has been a part of his life.

H I S R E I K A N

Rei Kan - ability to feel spiritual phenomenon.

Kuwabara is often considered weak and pathetic by Hiei, and by his own sister, Shizuru. But despite of being weak and being a clown in Urameshi's group, he is also a great advantage on their team because of his extraordinary rei kan capability. This ability of his was already introduced during the second episode. He felt a spirit roaming near him but he didn't know it was Yusuke's. He also told his friends who were with him at that time that the spirit was from a cat or a dog. Of course, Yusuke went mad. Anyway, he can sense danger when it's near and he can also speak directly through others' minds which are very essential to their team's success during battles.

T H E R E I K E N

His rei ken ( spiritual sword ) first appeared during his match with Musashi ( during the tournament of Genkai ). When Musashi attacked him with his wooden sword, Kuwabara counterattacked using his rei ki unvoluntarily. His rei ki was materialized as a sword since he was holding a small part of Musashi's sword that was broken.

H I S W O R D O F H O N O R

Besides his capabilities in relation to his rei ki, he is also a man with a word of honor. He once had promised his friend ( locally dubbed as "Eric" ) that he would not fight his enemies in a week, if this was however not fulfilled, the school won't allow his friend to resume his part-time job. Kuwabara kept his promise eventhough alot of gangsters challenged him and beat him up. He also tried his best to pass the physical science test given to them by their villaneous teacher which he also gave his word that he would not fail. He tried his very best to pass it ( Yusuke's spirit also helped ) and so he and his friends did. After all these, Eric was allowed to have his part-time job. Yusuke was also impressed with the work that he had done to help Kuwabara.

L O V E A T F I R S T S I G H T

And about his love life, he was inlove at first sight with Yukina at the moment he saw her on a video tape that Koenma gave them. Their mission was to rescue the Koorime maiden from an evil merchant. And because of Kuwabara's burning love with Yukina, they were successful in saving her.Though, it was unfortunate for Kuwabara that he is totally clueless about Yukina being Hiei's younger sister.

**While Yusuke was in Makai upon Raizen's call, Kuwabara passed the university entrance exam and resumed his schooling with Keiko.